Building the future
of construction machines
Engineers are always looking to build safer and more efficient machines, whilst reducing exhaust emissions and saving fuel, but what are the solutions currently under consideration?
In this whitepaper, we look at it through the prism of:
Construction: towards hybrid engines and the recovery of energy to reduce exhaust and noise emissions.
Mining: towards fully electrified and automated machines to ensure workers safety whilst cutting down costs and emissions.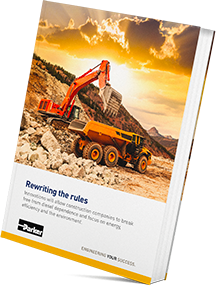 Forestry: building lighter machines to reduce environmental impact.
For more information on all of the solutions under consideration, be sure to download our whitepaper by filling fields in the opposite form.
Download the whitepaper
Submit the form below to access the whitepaper
To chat with our Parker team, please contact us:

parker.southafrica@parker.com

+27 (0) 119610700