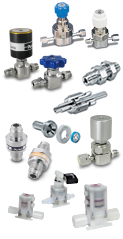 Gas Delivery


From bulk gas delivery to mixing, tool hookup, etching and testing, our high purity and ultra high purity products offer integrated solutions that work together seamlessly to increase throughput, ensure media purity, and reduce expensive downtime. They include the following:

Boosting efficiency, lowering cost at the fab

Compact Ultrasonic Flow Meter

Applications: Liquid delivery, wafer cleaning, slurry
Offers greatly increased accuracy (plus or minus 2% of reading)

Provides a higher turndown ratio. Handles higher concentration acids, slurries, and other typical semiconductor process fluids
HPX1 Series High Purity PFA Heat Exchanger for high resolution process temperature control

Application: Wafer cleaning
Special PFA tubing enables high performance temperature control of chemicals. Transfers heat to surrounding fluids while ensuring process purity and safety through a leak-proof design.
Parker Hannifin Corporation
Veriflo Division
250 Canal Blvd.
Richmond, California 94804

New from Parker:

NEW Ultra high purity, competitively priced FR Series regulators

Applications: Valve manifold boxes, point-of-use tool hookup and gas cabinets
Parker's FR 1000 and FR 1400 Series of ultra high purity single-stage regulators provide precise, stable control of process gases in downstream point-of-use applications, reducing short- and long-term costs for semiconductor OEMs, integrators, and fab facilities.

For complete details, download the FR 1000 Series bulletin or FR 1400 Series bulletin.

Product Configurations: FR 1000 | FR 1400



NEW Cost-saving UHP Metal Face Seal and Weld Fittings




Applications: Valve manifold boxes, gas cabinets and tool hookups
Specifically designed for ultra high purity (UHP) semiconductor applications. Compact design allows for system miniaturization and close coupled spacing. Permanent heat code marking on wetted components provides full material traceability. All new products are available in SEMI F20 compliant material.

For complete details, download the UHP metal face seal and weld fittings bulletin
.

Product Configurations:
UHP Metal Face Seal Fittings |
UHP Welded Fittings


NEW Corrosion-Resistant Series 22 Valves for wet etching and clean applications

Applications: Wet etch and wafer cleaning
New ultra clean manual and pneumatic valves offer increased flow and provide better seat sealing for enhanced leak-free performance and greater safety.

Deliver high cycle life in acids and slurry with reduced maintenance
Compact footprint with a true lock-out, tag-out design
Meet SEMI F57 standards
For complete details, download the 22 Series Valve
(1/4" and 3/8")
bulletin and
22 Series Valves (1/2" and 3/4")
bulletin
.

Download the Fluoropolymer Material and Chemical Compatibility Guide

High Cycle Speed Valve offers increased cycle life, greater reliability

Applications: ALD, high speed switching for process gases
The HCS1 Series is a UHP stainless steel diaphragm valve that performs up to 100 million cycles on cycle tests with a response time of less than 10 ms.





You asked. We delivered.
New innovative products combine with our legendary legacy offerings to improve performance, productivity and profitability all over the fab.
© Parker Hannifin Corp 2016
Series 22 manual and pneumatic valves
PFA/PTFE Valves (check, needle, relief, diaphragm, 2-way, 3-way)
Specialty and custom manifolds, welded assemblies, surface mounts, valve assemblies, and customer components
Flow meters
Tube and pipe fittings
Regulators
Water spray gun
Heat exchangers
Gauge protectors

In-line static mixer
Thermocouple sensor assembly
6" diameter custom pressure vessels
Fittings

Fluid Delivery


Our fluid delivery products have been designed for use in high purity semiconductor fluid applications. They offer excellent resistance to aggressive chemicals, as well as maximum flow and high cycle life for less downtime and lower replacement costs. They include the following:

Download:

Semiconductor Microelectronics Brochure

UHP Metal Face Seal Fittings
UHP Weld Fittings
VacuSealTM
MiniButtweld
VAC100 Series
935 Series
945 Series
955 Series
FS190 Series
SM930 Series
930 Series
F9 Series
Quantum 830
700 Series
855 Series
845 Series
970 Series
1004 Series
600 Series
18R Series
17R Series
FR Series regulators
SQ Series UHP point-of-use
SQHP Series
QR4000 Series
NPR4000 Series
BFR5K Series
SQB Series
SMSQ2 Micro Series
QRM and QRMHF Series
SMQRM and SMQRMHF Series
HF1200 and HFT1200W Series
IR4000 Series
SQ2MICRO Series
959W and NPR959W Series
SQServo