Visit Booth #1O17 at Power-Gen Europe to see the most comprehensive set of solutions for Power Gen applications.
Parker Hannifin Corporation, the global leader in motion and control technology, will feature its latest Energy Solutions at this year's Power-Gen Europe Conference and Expo. From June 9-11 in Amsterdam Rai, The Netherlands, attendees can stop by Booth #1O17 to see the latest components and systems for the power generation and renewable energy markets.
NEW! Parker is proud to release the
N2 NitroDry at Power-Gen Europe 2015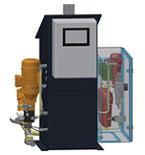 N2 NitroDry Air Dryer

Designed especially for Power Gen applications

High temperatures, water and oxygen significantly deteriorate oil and decrease performance in lubrication systems, hydraulic applications, seal monitoring and gear boxes. Through the use of extremely dry nitrogen gas, N2 NitroDry removes free and dissolved water particles, as well as dissolved oxygen, from the oil. Eliminating these system pollutants by incorporating a dryer minimizes maintenance and downtime and improves overall reliability.

N2 NitroDry consumes 1.6 kVA nominal power, generates minimal heat (<500 Watt) and has an input voltage of 380-690V (50-60 Hz). It offers a 2x4 dm3/min flow rate, 95% nitrogen content and incorporates very few rotating or moving parts for high durability. Read the Press Release.
©2015 Parker Hannifin Corporation
Parker's Featured Solutions for Power Generation:

At the expo, in addition to premiering its new ultra efficient dryer, the N2 NitroDry, Parker will also display several new Gas and Dual Fuel Engine technologies including hydraulics, filters, valves and seals that enhance system performance, eliminate pollution and improve emissions. Visit Booth #1O17 to see the products below as well as other solutions for the Power Generation market and talk to our engineering experts about your application needs.
Complimentary Show Pass and Parker Expertise
Register below to download information for your Complimentary Show Pass. The link to download the pass will open in a new window. Are you lookng to improve your application? Use the form tell us about your current or future project and see how Parker can work for you.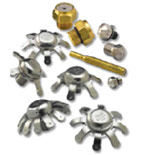 Urea Macrospray® Single-Point and Spider Nozzles

Proprietary macrolamination technology — where numerous layers are joined using advanced production methods to create a macrolaminate stack — not only simplifies nozzle design, it results in enhanced performance at substantially reduced installation and life-cycle costs.




CLEANDiesel for Power Generation

Solutions featured will include the pollution-eliminating Closed Crankcase Ventilation (CCV) Super Impactor; the new iprotect® generation of filter elements; and Parker's performance-enhancing CleanDiesel Coalescers and Filters.


View these featured products and many more of our components and system solutions at Power-Gen Europe 2015, Booth #1O17. And don't forget to register and download your complimentary show pass.


See you at the show!