SEALING & SHIELDING DIVISIONS
Parker is the partner customers can depend on to help improve their productivity and profitability. View More >
We are a global supplier of EMI Shielding, thermal interface materials, plastics and optical products.
Chomerics offers a worldwide network of applications engineering support, manufacturing facilities and sales offices.
Sealing Technology Experts
Parker Engineered Polymer Systems is the industry leader for over 40 years in engineering, material science and the manufacture of custom shapes, seals and components from a wide range of materials.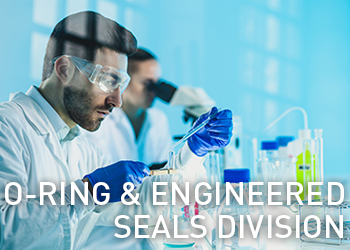 The Global Leader in Cutting Edge Elastomeric Technology
Parker O-Ring & Engineered Seals Division is committed to every aspect of customer service from product development and research to our mobile apps and teaching tools.
Proven Sealing Experience
The Composite Sealing System Division designs and manufactures engineered seals and sealing systems, consisting of metal and composite retained elastomeric combinations. We provide value added solutions to challenging applications in a variety of markets.
Single Source Solution Provider
Parker's Medical Systems Division is a global, FDA registered, ISO 13485 certified, clean room manufacturer of custom medical components and assemblies for the medical, pharmaceutical and life science industries.
The global leader in the field of designing, developing and manufacturing sealing systems.
With in-house compound and design expertise, testing and process technology plus state-of-the-art manufacturing facilities Parker-Prädifa offers a wide portfolio ranging from standard products through to customised system developments.
Previous
Next
SEE FOR YOURSELF
The Parker video library is engineered to keep you engaged and well-informed. Videos >
Nobrox
Parker Tracking System — RFID
This video explains how the Parker Tracking System (PTS) uses RFID technology to detect and identify rubber elastomers and seal properties.
WHITE PAPERS
If you're in the construction industry, you'll get into this. Innovative solutions are just a click away. Check out our technical papers here. View More >
Hydraulics & Pneumatics: Avoid Rod Wiper Leakage
Can cylinder rod leakage be a direct result of a rod wiper being too aggressive? Absolutely. Find out more here.Read More >
FEATURED PRODUCTS
Productivity. Profitability. Sustainability. These are the innovative products that are having a positive impact on our world. View More >
Nobrox Products
Introducing Nobrox. Incredibly versatile technology that will change and simplify sealing technology.
BLOGS
Gain insight from Parker's application experts on important sealing and shielding trends and innovations. Keep up here. View More >
How Much Do You Know About Compressive Stress Relaxation? CSR Part 1
Explore the theory of Compressive Stress Relaxation (CSR) testing, common test methods, and how CSR differs from compression set testing.Read More >
How Much Do You Know About Compressive Stress Relaxation? CSR Part 2
Gain a better understanding about CSR results, including what to look for in a CSR curve to see how a rubber seal material responds to a particular environment. Read More >
EPIC ENGINEERING
Check out some of the amazing applications of engineering expertise. View More >
Next Breakthrough in Solar? Team converts heat to focused light beams.
A team of MIT scientists has created a new solar energy device that uses inventive engineering and advances in materials science to capture far more of the sun's energy. As development continues, the system could eventually deliver clean, cheap — and continuous — solar power.
From our friends at Technology Review.
SEALING & SHIELDING TOOLS & SUPPORT
On the go? Take these important links and apps with you for easy access on your mobile device. View More >

Webinars
Sealing Technology Roadshows
O-Ring eHandbook
Leak Troubleshooting
O-Ring Selector
Seal Solutions Guide
BROCHURES
The global leader in motion and control has a wealth of technologies to offer the medical device industry. Get into the details here. View More >
Nobrox
Nobrox is truly a game-changer in sealing technology. Here's everything you need to know.Download Brochure >
Sealing Solutions for Fluid Power
Parker develops and manufactures engineered sealing solutions - technologically advanced sealing devices and materials.
Download Brochure >