PV/CSP Solar Actuation Solutions with smart sensors, smart positioning and more

Please join Parker's Energy Platform Solutions team at Solar Power International, September 10-13 at Booth #1545 at the Mandalay Bay Convention Center in Las Vegas, NV. Our display will feature innovative linear motion/axis tracker solutions with our hybrid actuation system (HAS) for solar panels. The HAS uses Parker's own intelligent position feedback sensor, as well as our cloud-based wireless condition monitoring and diagnostics sensors.

In addition, Parker will "sneak preview" a new photovoltaic inverter as part of its extensive offering of Power Conversion/Energy Storage systems. To learn more about product solutions for solar, please click on the product sections below.
End-to-End Solutions for PV/CSP Solar Actuation, and Grid-Tie Power Conversion & Energy Storage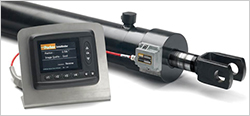 Parker has developed a robust, self-contained hybrid actuator system that provides utility scale PV developers with an ideal solution for adding PV pitch control into large solar field installations. The compact system is a completely self-contained unit combining a double-acting actuator, pump, and electric motor that eliminates nearly all leak paths into or out of the package. It offers clear advantages over comparable electromechanical actuator (EMA) systems because all the internal wear items are permanently lubricated for extended life and the power density of HAS is typically three times that of a comparable EMA. Designing a hybrid actuator into a pitch system allows designers to move more PV panels with fewer actuators and controls, resulting in lower installation costs and longer service over the life of the solar field.




Reinvent Active Solar Tracking through the use of Parker's Hybrid Actuation System (HAS) actuators. Featuring the controllability of electromechanical actuators combined with the power density, longer life, and resistive force capabilities of traditional hydraulic systems. The resulting hybrid offers a robust, long-life tracking solutions for solar power.
AXIS TRACKER/SOLAR ACTUATION SOLUTIONS
HAS - HYBRID ACTUATOR SYSTEM

FEATURING
GLOBAL SHIELD™ Anti-Corrosive Rod Coating

Specifically designed to enhance Parker cylinder performance in demanding high-humidity outdoor applications with corrosion resistance requirements. When compared to traditional rod coatings, Global Shield provides significant improvements over traditional chrome coatings.

• Lower Friction – no need for lubrication
• Stronger Adhesion to the carbon steel substrate
• More Ductile & Tough so when the rod bends, it does too
• Engineered Hardness (HRC 54 minimum) for maximum wear-
resistance (eliminates surface micro-cracks and delamination.)



Visit Parker Booth #1545
Visit our booth at
Solar Power International
in Las Vegas, NV from September 10-13
to learn more about our solutions or use use the form below.
SensoNODE™ Mobile Sensors & Diagnostics
Featuring NEW SensoNode Gold smart condition monitoring for solar panel actuation.
This low-power wireless sensor provides condition monitoring for hydraulic system pressure changes in solar panels that are affected by weather (wind, rain, etc). Transmits real-time analytics to your iOS 8 mobile device, using Parker's proprietary SCOUT mobile software technology. Click the links below to view our blog, read the press release on our cloud-based Sensor Solutions and learn more about Condition Monitoring for Solar Panels.





OUTDOOR Power Conversion Systems and Central Inverters
Smart, compact, modular
The Parker 890 GT-S Outdoor Central Solar inverter is a 1kV utility scale modular unit available in ratings through 1950 kvA. Coupled by the 890-GT-B Power Conversion system for energy storage, both units feature a modular design and field replaceable power modules to facilitate maintenance and service.



Additionally Featured on HAS from Parker:

NEW! Universal Tilt Sensor (UTS)
Providing solar panel controls with closed loop position feedback, the Parker Universal Tilt Sensor (UTS) is a 2-axis or 3-axis MEMS based device that detects absolute position of a solar panel within a range of ±90° from horizontal. Featured at SPI on the Parker Hybrid Actuation System (HAS), Parker's proprietary UTS can also be integrated with any solar panel control system able to communicate with the SAE J1939 CAN protocol.



Sneak Preview!
Photovoltaic Solar Inverter
Rugged, modular, high power density
VIEW OUR NEW LINEAR SOLUTIONS OVERVIEW VIDEO


Parker offers turnkey solutions for Energy Storage containers. Parker's cold plate and component cooling solutions deliver localized cooling of hot spots with low development costs, and are well-suited for radar and EW transmitters, directed energy weapons, and power electronics. Solutions range from single- to two-phase cold plates.



Parker Hannifin Corporation
Energy Platform Solutions
6035 Parkland Blvd
Cleveland, OH 44124
renewables@parker.com
A new standard in corrosion resistance extending rod life up to 8x compared to traditional coatings.
Product Overview:

Hybrid Actuator System (HAS) with Intellinder smart sensor!